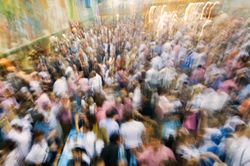 Fear of rejection is a common reason for avoiding intimacy. The following model allows the counsellor to talk through a variety of relationship aspects with the client – an approach that can help the client to view a relationship as rather like a journey. The counsellor encourages the client to explore various Key Factors associated with developing and maintaining healthy relationships.
1. Trust
Placing trust in people too quickly may lead to disappointment, whilst a lack of trust can damage a relationship. For acquaintances to become friends, trust needs to be solidly established.
2. Protection
At the start of a relationship a client may be reserved in order to protect him or herself. This is an important factor that allows the relationship to develop at a sensible pace. 'People who tell too much too soon can put others off', (Carlock 1998). However, too much reservation can inhibit the development of trust. Projecting our lack of trust on to others may encourage them to give up on the relationship and, this in turn can become a self-fulfilling prophecy on the part of the client (Fisher, 1981).
3. Risks
If a client gives little to the relationship in terms of revealing his or herself this may prevent the relationship from developing further. Equally, McNulty and Swann (1991) found that some individuals avoid those who are overly favourable to them. The client is therefore encouraged to take some emotional risks, sharing more of him or herself in order to move through the various stages of friendship. However, it is also important to help the client remember that they have control over how much risk to take and when to take it. Clients working in corporate settings will be very familiar with the terms Risk Assessment and Risk Management which can be ways of describing this factor.
4. Testing the Water
This helps the client assess and manage risks – spending time re-evaluating how the client sees the relationship progressing and whether he or she really wishes to move forward with it.
5. Time
An awareness of the process of relationship building also allows the client to linger in any part of the model. He or she may decide that they want a particular friendship to stay at a certain stage. Time is used to develop (or reconsider) the friendship before moving on.
6. Emotional decision making
Assessing whether a friendship meets the client's needs involves emotional decision making. This can be done at any stage of the process, when the client is encouraged to explore whether he or she wishes to progress with a particular relationship.
7. Pacing
As the client becomes familiar with the model, he or she begins to understand one of the most important aspects of all good relationships – pacing.
Pacing refers to the client's ability to keep emotional pace with another person as the relationship moves organically through its various stages. The client learns that he or she is free to set the pace, or to follow the pace of the other person. The important point is that the client realises that he or she is flexible enough to move forwards or backwards or to choose to keep the relationship at any given point, providing the other person is in agreement. For example, the concept that there are some individuals we are happy to see two or three times a year but no more may seem strange to some people, but, where mutually accepted, it can provide a type of background friendship that is very supportive and stable.
References
Carlock, C.Jesse, 19978, Enhancing Self-Esteem, Taylor & Francis, Philadelphia
Fisher, B., 1981, Rebuilding Your Relationship, Impact Books, San Louise, CA
McNulty, S & Swann Wk, 19091, The Rational Self, Guildford Press, New York.