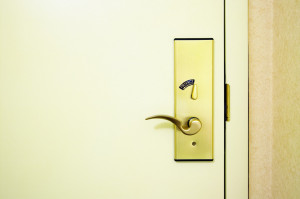 Whilst I'll presume that you know enough about the aesthetics of preparing a therapy room and to ensure that you have an basic office facility available, I'd be remiss not to highlight an important issue in private practice: that of personal security.  Please do consider the following issues:
Geographical location: If your office is at home, and is on the ground floor, and is very obviously a part of your home the client may perceive it as linked to other rooms and there is no sense of isolation.  Taking someone up to your attic might be a different thing.
Where do your clients come from?  Limiting your clients to those who are referred from reliable sources may also minimise any difficulties. There are clients that you might be skilled and happy to see in an agency or medical setting where you would be unwise to see them as a private practitioner.  You'll need to think about the difference between the acceptance of "some" inherent risk and an increase in risk factors.
Whilst being aware of the possibility of physical attack I also need to recognise the rarity of such a thing happening.  In fact, research (Victor, 1998) has shown that I are most likely to encounter personal physical violence when I work in an office full of disparate colleagues. In the unlikely event that you're confronted by a client who seems to be becoming agitated in a way that suggests imminent violence in session.  What precautions can you take, and what can you do?

It is possible to have a "panic button" installed in your office that is connected  to your local police station.
Where do you sit in your office?  If you sit nearer the exit door than your client, this will give you an advantage if you need to leave the room quickly.
Where you have a smallest doubt about a client in advance of a session, see if you can arrange for someone else to be on the premises if at all possible (if all else fails perhaps you could trade this with a neighbour for some babysitting time, for example).
Finally, if you genuinely find yourself worrying about your personal safety in an office on your own, then it will probably affect the quality of your work and you may wish to think seriously about being in an independent practice.
This post is part of the free E-Course "How to Develop Your Therapy Practice". Each lesson only covers the bare essentials of what you need to learn and should not form your only source of information.
For the complete detailed guide which takes you through each step of setting up and building a successful Therapy Practice – click here.
If you missed the previous lessons, here are the links:
An Introduction to Private Practice
Legal Requirements
Is Private Practice for You?
Are You Ready for Private Practice?
What are the Initial Considerations?